CALIFORNIA SCHOLARSHIP FEDERATION (CSF)
The California Scholarship Federation (CSF) is a statewide organization that recognizes and provides numerous scholarship opportunities (including the Seymour Memorial Awards) for high school students who fulfill their academic and community service requirements.
WHY BECOME A MEMBER?
In addition to being eligible for scholarship opportunities, when student qualify for membership at least 4 semester (out of 6) using grades earned during their sophomore through senior years (at least one of which must be using senior year grades), they earn the CSF embossed Seal on their diploma and transcripts along with the CSF Life Member status.
CSF FORMS- 2022-23 School Year
WHO ARE WE?
We are students who have earned the privilege of being members of a recognized honor society through our grades and service.
WHAT CAN CSF DO FOR ME?
With four semesters of eligibility as CSF members, you can earn the prestigious status of being a Lifetime Member. This is a title that can make college applications more impressive, will earn you a CSF gold seal on your diploma, and gives you the distinction of wearing a gold sash over your graduation robes.
WHAT DO I HAVE TO DO?
Your sophomore-, junior-, and senior-year grades are the central driving points for eligibility. You will need to print the linked forms (above) during the dates allotted in a specific semester. Fill in the application, the Service Form, and pay the dues. Attach any copies of documents that will serve as evidence of your notable honor. Turn everything in to the front office by the deadline noted for the specific semester.
WHAT IF I STILL HAVE QUESTIONS?
Ask Sarah Hershey or one of the CSF officers list on the application cover. We are happy to help!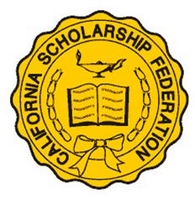 For more information on the scholarship opportunities and benefits of CSF Life Member status, please visit their website at: